Description
Other people's negativity, whether it's from disgruntled customers, grumpy coworkers or challenging family members, can drain our energy and bring us down. Changing other people is hard, but we do have the power to change the situation by how we respond. This dynamic program uses Tina's proprietary five-step "Immunity to Negativity Formula™" to show people how they can use simple tools to help them stay calm and choose to respond as their best self. This is a key skill we can build to optimize our customer service, teamwork, and relationships while enjoying less stress and frustration.
Basic Course Information
Learning Objectives
How to PREPARE our mindset ahead of time to make it easier to stay positive in the moment
How to PRACTICE on the easy stuff so we get better at staying calm
How to PAUSE & NOTICE in the moment so we can avoid reacting and feeling stressed
How to make it easier to CHOOSE the best response for ourselves, the other person, and our team

Major Subjects
Emotional Intelligence
Management Skills
Teamwork
Customer Relations
Faculty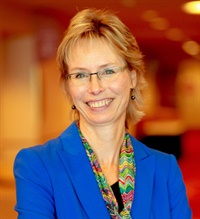 Positive Edge
---
Tina Hallis, Ph.D. is certified in Positive Psychology through the WholeBeing Institute, an Authorized Partner for Everything DiSC®, and has trained in Positive Intelligence under Shirzad Chamine. She is the author of Sharpen Your Positive Edge: Shifting Your Thoughts for More Positivity & Success. Tina worked for 20+ years as a scientist in Biotechnology before discovering a new science called Positive Psychology in 2011. Seeing the powerful impact this information has on improving people and organizations, she decided to create her own company, The Positive Edge. Her focus is to work with organizations so they can benefit from more positive people, positive interactions, and positive workplaces. Tina has shared these profound insights with thousands of people from a variety of industries including government agencies, academic institutions, medical staff, financial institutions, biotech companies, manufacturing companies, sales teams, nonprofits, and more.
---
State Specific Details
Basic Course Information
Course Developer Tina Hallis
Designed For All Professionals

Reviews
Overall:
4.5
Total Reviews: 4