Description
How do you keep your team connected with the limitations of virtual meetings? Suddenly, it's more important than ever for each member to understand and appreciate their differences; to see beyond the screen and see each other's human-side to maintain trust. In this course, Tina Hallis, Ph.D., will look at the neuroscience of trust and why it's critical for optimum teamwork. But more importantly, you will leave with specific strategies and tools that you can choose from to use with your people.
Basic Course Information
Learning Objectives
Discover why our brains need to trust others for optimum collaboration. Understanding our brains explains why connection is even harder in remote teams and requires planned action.
Explore the factors that get in the way of trust and keep us on-guard, especially in virtual environments. Knowing what to look out for is half the battle.
Engage with tools and activities that can be used with remote teams. Find approaches that will work and resonate with your people to build bridges and breakdown walls.
Major Subjects
Remote work
Virtual teams
Faculty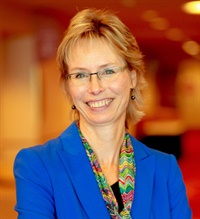 Positive Edge
---
Tina Hallis, Ph.D. is certified in Positive Psychology through the WholeBeing Institute, an Authorized Partner for Everything DiSC®, and has trained in Positive Intelligence under Shirzad Chamine. She is the author of Sharpen Your Positive Edge: Shifting Your Thoughts for More Positivity & Success. Tina worked for 20+ years as a scientist in Biotechnology before discovering a new science called Positive Psychology in 2011. Seeing the powerful impact this information has on improving people and organizations, she decided to create her own company, The Positive Edge. Her focus is to work with organizations so they can benefit from more positive people, positive interactions, and positive workplaces. Tina has shared these profound insights with thousands of people from a variety of industries including government agencies, academic institutions, medical staff, financial institutions, biotech companies, manufacturing companies, sales teams, nonprofits, and more.
---
State Specific Details
Basic Course Information
Prerequisites None
Advanced Preparation None
Designed For Leaders and managers who have remote workers or teams
Course Developer Tina Hallis

Reviews
Overall:
5
Total Reviews: 2